Personal Injury
Our law firm specializes in personal injury and truck accident cases. Garrett Law Firm is recognized in this field. Other lawyers have rated our firm as preeminent, the highest possible rating given in the legal community.
Not all attorneys practice in this specialized area of the law. The quality of your legal representation may determine your ability to acquire appropriate treatment and take care of your family following an injury. In researching the facts behi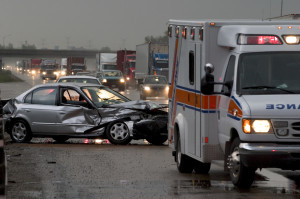 nd a claim, Garrett Law Firm leaves no stone unturned.
We perform a thorough investigation of the accident, seeking compensation from insurance companies and the negligent party. We are always ready to go to trial if it is in your interest. There is no charge for a consultation.
Actions taken early in a personal injury legal case may be critical to the outcome. As soon as our lawyers accept a case, we take steps to preserve evidence, get witness statements, evaluate the extent of our client's losses, and deal with all communications with insurance companies.
Spinal Cord Injury
An attorney's role in the event of a catastrophic accident is to describe that loss — paraplegia, quadriplegia or another degree of paralysis or injury — in financial terms. Financial compensation will determine your ability to receive care, live with dignity, and take advantage of future medical advances.
At Garrett Law Firm, our attorney has access to expert resources necessary to recover full and fair compensation for victims of spinal cord injuries. We understand that these are difficult cases, and our firm supports our clients by hiring top medical, life-care and economic experts.
It's impossible to evaluate the potential for recovery right after a serious accident. It is extremely important that you acquire legal advice before discussing the claim with an insurance company representative or before signing any settlement offer.
Traumatic Brain Injury
When massive head trauma causes a coma or permanent amnesia, or leaves the victim dependent on others for simple daily care, we may be able to help the victim receive compensation. Our law firm works with economic and health care experts to determine the loss suffered by the victim and the victim's family.
It's important to know that immediately after a serious accident, a closed head injury or simple concussion may not appear to be serious.
The injured person may have blacked out for only a few seconds or was dizzy and disoriented. Only weeks or months later may the full extent of the brain damage start to become apparent. Damage could manifest itself through memory loss, an inability to calculate or a personality change. Our lawyers have deep experience in this field of practice and work with experts to identify Traumatic Brain Injury (TBI) and testify as to its effect on our client's life.
Premises Liability
A slip and fall accident can be serious and cause damage to the back, neck, spinal cord or hip. Slip and fall accidents fall under premises liability. They can require extensive medical attention and lead to financial difficulties.
If your fall was due to unsafe conditions, you may have a claim against the owner or manager of the property.
Premises liability law covers apartment complexes, shopping malls, private property and construction sites. Cases where the injured person might have a premises liability claim include the following:
•Slippery grocery aisles
•Sliding Doors
•Falling debris or poorly maintained stairs
•Inadequate lighting in hallways and staircases
•Broken sidewalks or uneven parking lots and walkways
Burns
Scarring that follows a burn injury not only causes disfigurement, but serves as a lifelong reminder of the pain and trauma the victim endured while healing. At Garrett Law Firm, our personal injury attorneys are committed to helping our clients recover maximum compensation for such devastating injuries.
Working with medical, psychological and economic experts, our lawyers demand compensation for our client's pain and suffering, ongoing psychological treatment for post-traumatic stress disorder (PTSD), and depression resulting from disfiguring scarring. Our record of verdicts and settlements attests to the quality of our legal services.
If a member of your family suffered an electrical or chemical burn, you may be overwhelmed by the demands of medical treatments, household bills and uncertainty about the future. It is extremely important to get legal advice at the first opportunity. Call us at 575-762-4545.
Wrongful Death
The loss of any human life in a fatal accident is tragic. However, it is particularly distressing for a family to realize that their loved one's death resulted from another's negligence.
The experienced attorneys at Garrett Law Firm provide wrongful death accident survivors with compassionate counsel and powerful advocacy while vigorously pursuing legal claims or negotiating with insurance companies following fatal auto accidents or truck accidents.
If you have lost a family member, we extend our sincere sympathy. As lawyers, we cannot turn back the clock, but we can hold those responsible accountable for your loss and help you pursue the compensation you need to rebuild your life.
Before signing any settlement agreement with an insurance company, it is extremely important to discuss your case with an attorney who has experience in handling claims for a wrongful death. A number of factors should be considered when calculating your losses, and you may be eligible for more than one claim.
It costs you nothing to discuss your case with an experienced personal injury lawyer.